Yianni's Backyard
When we found out Yianni was opening a restaurant two blocks from our house, my husband and I did a little happy dance.
Yianni Psalios is a Greek restaurateur who founded a series of restaurants serving the best Greek food in Edmonton. If you don't believe me, go to Yianni's Backyard, his newest restaurant, and order the mezze platter. It looks a little something like this:
Lucky for Edmontonians, Yianni met his wife on a chance trip here in the early 1980s. He moved shortly thereafter and began opening restaurants, including the Yianni's on Whyte Avenue (though he no longer owns that one) and the Koutouki on 124 Street (he does still own that one).
For a full history on the man behind that delicious roast lamb you are shoving into your face because you took my advice and dined at his restaurant, read my profile in Vue Weekly. Yianni actually clipped out a copy of this article and put it up in the entrance to Yianni's Backyard, and I was just so chuffed to see it up there, right nearby all the old photos of various Edmonton Oilers team members. (They all liked to party with Yianni back in the day – and who wouldn't want to hang with the guy who can keep you up to your ears in calamari and ouzo? Plus he just seems like a cool dude.)
Anyway, I can't recommend the place enough: beautiful decor, attentive and friendly service, a laid back atmosphere, and the food – oh, the food. They also set up a pretty gorgeous patio this summer: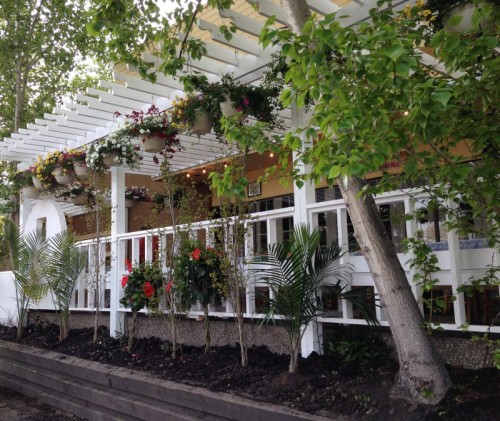 The only criticism I can offer is that their wine menu could use some work. It's not bad, but it's nothing special; really I'm just sad that they don't have more Greek wine on it. There are some really great wines coming out of Greece these days: read more about Greek wine here, in a piece I wrote for Vue the same week the Yianni profile ran. (I apologize in advance for the massive picture of a wine bottle that greets you when you open the link – just keep scrolling.)
Yianni's Backyard
5524 Calgary Trail
780-458-6161
---
---