Consumed by Wihtiko: a review of Pawâkan Macbeth
Infusing Shakespeare with Cree cosmology is an intriguing theatrical exercise at play in Pawâkan Macbeth – A Cree Takeover, which just had a short run in the Chinook Series at Azimuth Theatre's Expanse Festival.
This is the first full production of the script by Reneltta Arluk, founder of Yellowknife's Akpik Theatre and current director of Indigenous Arts at the Banff Centre for Arts and Creativity. Pawâkan Macbeth debuted in Edmonton back in 2017 as a staged reading and was commissioned by The Stratford Festival. A version of the show will debut at Stratford later this year, though as this is a work-in-progress it will likely be quite different than the one that just ran here in Edmonton. (For more information on the back story of Pawâkan Macbeth, listen to this episode of the podcast which features an interview with assistant director Barry Bilinsky.)
The story is set in 1870s Alberta, when Cree were allies with Nakoda and battling Blackfoot, the Canadian government was forming treaties and smallpox had ravaged many communities. At the centre of the action is the warrior Macikosisân (Macbeth – played by Aaron Wells) and his wife Kâwanihot Iskwew (Lady Macbeth – played by Allyson Pratt), who plot to kill Okimâw Wîpastîm (Duncan – played by Joel Montgrand). The original trio of witches have been replaced by a quartet of wiyôyôwak, or coyote howlers – a band of raggedy, mischievous trickster spirits.
The driving force behind the characters' actions, and the central concept of this story, is Wihtiko – the Cannibal Spirit that has many names in various Indigenous cultures. Wihtiko is greed incarnate; according to Bilinsky's notes in the program: "the Wihtiko is a creature who consumes for no-one but themselves, who takes and takes and eventually destroys their community and loved ones."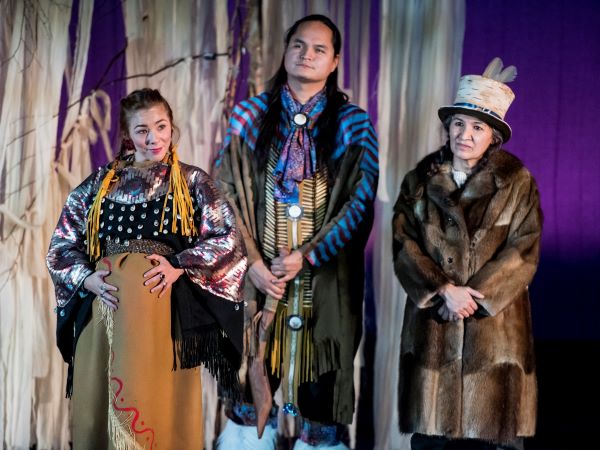 Pawâkan Macbeth is a little rough around the edges but has a lot of heart, and the performers embody their characters with sincerity and enthusiasm. The connection with Macbeth provides the main framework for the plot, but a lot of the nuances diverge. As the names listed above suggest, a good chunk of the dialogue is in Cree, including many of the jokes. This was a big hit with the crowd on the night that I saw the show. I admit that I got a bit lost a few times due to the unfamiliar language, but I was still able to follow the story well enough – and it was interesting to hear Cree spoken on stage.
This production made good use of shadow play, via a simple but effective backdrop: a white sheet enclosed in a hoop, like a giant drum. The actors stood behind it at various points and a distant light source cast their shadows up onto this surface. These were among the strongest and most evocative scenes of the show, and were an elegant, tactful way of conveying the show's violence.
And there is violence at the heart of Pawâkan Macbeth, which should be no surprise given the source material. The earlier jokes and conviviality, particularly from the wiyôyôwak and a couple other supporting characters (Mitchell Saddleback, in particular, plays a few comic roles that were a hoot), gives way to a sobering, dark undercurrent. Allyson Pratt delivers the show's most impassioned and heartbreaking moments at the story's terrible, gut-clenching climax.  
This is a curious and unique spin on Shakespeare's classic tragedy. It's easy to see why this show would be a hit at schools – the show is fresh off a tour of various schools throughout Treaty 6 territory. It will be fascinating to see how the show continues to grow and evolve from here.
---
---